WHY MICHAEL CHOSE A CYGNET 20!
About a year ago I starting looking for a sailing boat which I could sail on Moreton Bay, QLD which met the following requirements:
1. 20-25 feet LOA
2. Stable and forgiving.
3. Could be sailed single-handed.
4. Simple to maintain (no electrical system, inboard engine, etc.).

I wanted to keep the boat in the water but couldn't find anything until I realised that the boat I was looking for was probably in the 'trailer sailer' category. That's when I found the Cygnet 20.
In January, I went to the Bluewater factory in Newcastle where I spent two days with David and his boat builders, James, Kevin and Joe. I was able to sail the Cygnet 20 with David on Lake Macquarie and placed an order before returning to Brisbane. The Cygnet 20 was a lovely boat to sail, built to a very high standard and perfect for my requirements!
I returned to the Bluewater factory in May and was present for the final completion of my Cygnet 20 including a test sail on Lake Macquarie. David and his team were able to solve a number of particular issues, including attachment of the electric outboard motor adjusted for the particular propeller depth specified by the manufacturer. No bracket on the transom!
Delivery to Brisbane went without a hitch and David sailed the Cygnet with me for two days going over various details of the boat as we enjoyed ourselves on Moreton Bay. David's passion and attention to detail and quality were very evident. It was also lovely to meet the Bradburn family as well, and see the support given by Corinne, Will & Jessie Rose. Bluewater Cruising Yachts is very much a family business!
Since delivery last week I have sailed my Cygnet 20 as much as possible with my brother-in-law as we have fitted 2 months of 'weekend' sailing into 2 weeks. From no wind to over 15 knots the Cygnet 20 handled very nicely. This boat is fun to sail! I really enjoy the gaff rig and the 280 litres of water ballast is a great innovation which assists stability without sacrificing performance.
I am very happy to have found the Cygnet 20 which has met all the requirements that I was looking for in a sailing boat.
Well done to the Bluewater Team!
Michael Shannon
'CHINA GIRL' ADVENTURES IN TASMANIA: JANUARY TO APRIL 2017
Lake Macquarie to Eden
The next trip for our Bluewater 420 "China Girl" was from Lake Macquarie to Hobart via Flinders Island (Furneaux Group of Islands) some two years ago. How time flies. In early January 2017 we left Swansea Channel on a high tide and turned right making stops at Botany Bay to call in on a friend, Jervis Bay and then on to Two Fold Bay, Eden. This trip was approximately 125nm or 20 hours @ 6 knots. We timed it so we could arrive at Eden entrance about 6.30am first light as we had not been in this anchorage before. All was going well and we were in the East Australian Current (EAC) flying down the east coast of Australia, and found ourselves at the Eden heads about 3 hours ahead of schedule travelling on average 9-10 knots. So at 3.00 am we managed to safely navigate into the bay. Once we turned right toward Snug Cove we could see these very bright lights and we realised all the lights were coming from the Tall Ship "Tenacious" designed to be sailed by a crew with widely varied physical abilities. She was a beautiful looking ship.
We stayed two nights at Eden and enjoyed the local fish, Eden Killer Whale Museum, beaches, and paddleboarding. During this time I was also looking at the weather to see how it was looking for our first Bass Strait crossing.
Eden to Flinders Island (Furneaux Group of Islands)
We were heading for Lady Baron, Flinders Island which was about 200 nm, 32 hours @ 6 knots. I had to take into account arriving at High Tide as we were going to enter on the east side of Flinders Island via Vansittart Shoals which was about 4.00pm in the afternoon. The trip forecast was for 25+ knots NW which to me sounded good. Passage went well. We had a few waves crash over the deck and hard dodger windows. Saw a few boats out, 1 passenger ship only on AIS. We had 3 reefs in the main, cockpit clears down so we were dry and warm (no wet weather gear for us). We were very comfortable in the cockpit with cockpit cushions, pillows and blanket. I can only describe it as like being in the comfort of your own living room at home.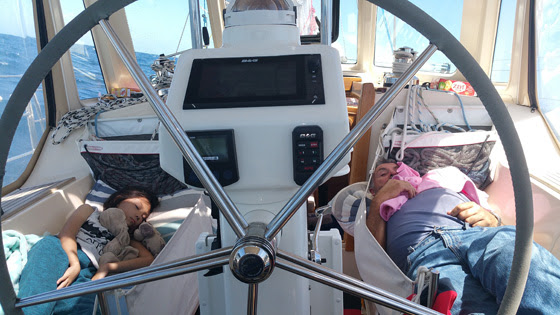 The next day in the afternoon we approached Vansittart Shoals following our paper and Navionics charts. Waves were breaking either side of the channel, depth got down to 2.2m and "China Girl" draft is 1.9m so a bit hairy in parts but we managed to get through okay, and we picked up a mooring in Possum Boat Harbour.
We hired a car for a week on Flinders Island. Only 900 people live on the island and when you drive on the roads everyone gives a courtesy wave as you pass each other, a gas attendant comes and fills up your petrol, and shop assistants help with your groceries in your car. There was a bit of road kill on the side of the road, and one policeman for the island who David and Will met as they were picked up by him as they hitched a ride into town during one part of the trip. Will also nursed a wombat which Jessie Rose was jealous of LOL!
We took in sights such as Mount Strzelecki which is the highest peak of the island (756m), Furneaux Museum, Walkers Lookout, drove to Whitemark, Killiecrankie and did some gold panning, walked around Trouser Point which are covered by granite headlands and covered in orange lichen.


During our stay it was forecast for a 50 knot SW. We thought it best to stay onboard "China Girl" that day as the anchorage backed onto some rocks, and we did not want to end up on them. We also were not sure about the swing mooring we were on either. About 10.00am it hit and I think I felt more seasick from being on the swing mooring than out to sea LOL! It all abated by late afternoon so we all faired well.
We had dinner up at Lady Baron pub a few times, and they had raffle night. At one time it got very rowdy with the locals but alot of fun talking to them and discussing their way of life on the island.
Flinders Island to Orford
The next passage and weather planning had us leaving Flinders Island again via Vansittart shoals at high tide in the afternoon and we were headed for Orford via Shouten Passage another 150nm, 24 hours @ 6 knots. From memory we had 15 knot NW leaving but it was forecast to pick up to 30-35 knots in the late evening so we put 3 reefs in the main. The boat handled well and we made good progress. When the morning came we went through Shouten Passage and passed Ile Des Phoques (White Rock). The kids enjoyed seeing the seals and we tried to get as close as possible to see them. We arrived Orford in the late afternoon as planned. It's always nice when things go to plan!
Orford to Little Norfolk Bay (via Denison Canal)
The next part of the trip was to plan High Tide at Marion Bay and get through the Denison Canal which was fun. We got through and anchored in Little Norfolk Bay. We went had a walk into town and visited the Tasmanian Devil Unzoo.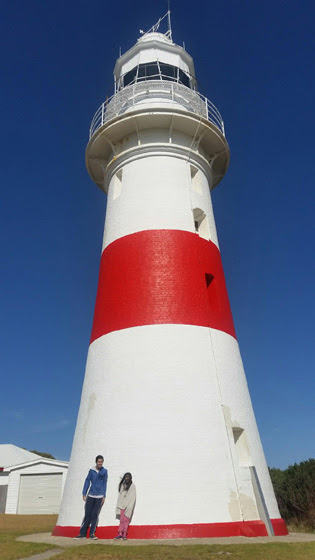 Little Norfolk Bay to Hobart
We stayed 2 nights in Little Norfolk Bay and then made our way up to Hobart. It was getting on evening and the Tasman Bridge was all lit up and it was a great view to see. We enjoyed our one night stay in Brook Street Pier before heading up to Prince of Wales marina where we had booked "China Girl" in. We had made it and it felt good. We flew back home at the end of January school holidays so we could get back to the Bluewater business, kids had to go back to school, and home life.
Wooden Boat Festival February 2017
Remembering that this trip was to be done part-time we had organised to fly back for another 8 days in February to coincide with the Wooden Boat Festival. One of our friends, Bruce & Thelma Morley had their 26ft yacht "Tui of Opua" in the show so it was a good trip back to see the beautiful wooden boats on display. We also managed to catch up with some customers/friends, Sel, and Peter & Virginia, and Raoul & Emily who had relocated to the area or were already Hobart locals over dinner.
In the few days we had we made our way south down to Kettering, and Huon River. We were lucky enough to catch another glimpse of Tall Ship "Tenacious" .
March 2017
In March we flew back to Hobart and spend 9 days this trip. We hired a car this time and visited the Wooden Boat Centre, Franklin, and visited the Tahune Air Walk, Geeveston, and visit to Kermandie Hotel.
Bruny Island
We also took the car ferry over to Bruny Island and had 2 nights on the Island. We also visited Bruny Island Neck Game Reserve, Bruny Island Oysters "Get Shucked" and enjoyed a variety of oysters.

Low Head Lighthouse
We also drove up to Launceston so we could catch up with an old school friend. Sights seen included Cataract Gorge Reserve, Low Head Lighthouse overlooking Bass Strait, University of Tasmania, Australian Maritime College, and then we drove back down the east coast via The Fish Van, Triabunna for fish and chips.

April 2017
April school holidays was the time we were going to bring "China Girl" back to Lake Macquarie. There is so much to see and there is just not enough time to see everything but we managed to visit MONA (Museum of Old and New Art).
Trouser Point
We provisioned and refueled the boat. Fortunately the weather looked favourable as there were 2 high pressure systems sitting over the Tasman Sea so we should not get anything too nasty. We ended up heading back via Denison Canal and up the east coast of Tasmania but this time crossed Banks Strait and anchored at Trouser Point (west coast of Flinders Island). Beautiful, deserted anchorage being the only yacht was beautiful.
At Trouser Point we explored the bay and climbed the rocks. It really was a little piece of paradise.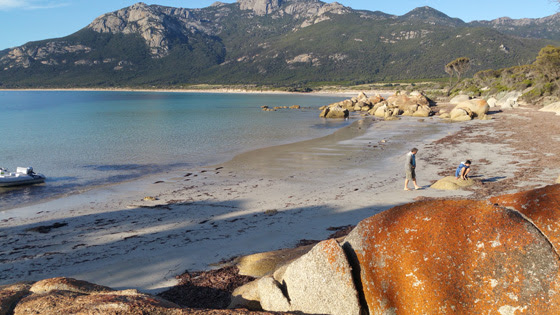 Killiecrankie
From Trouser Point we made for Killiecrankie which we had been to by car but the first time on our boat. We were supposed to leave earlier that day but a sleep in was too good to pass up so we ended up leaving at about 1.00 pm as opposed to 10.00 am. Well getting out of Trouser Point and navigating through a few islands and rocks where we had protection was fine until we were hit with a strong 25+ SW and moving about 9 knots. We had a fast sail up the west coast and once we got around Cape Frankland and closer to Killiecrankie the wind eased aided by the protection of the land mass.
Deal Island (in the middle of Bass Strait)
I would have to say that Trouser Point and this next leg to Deal Island was the most beautiful and memorable part of the trip for me. It was only a day trip 30 nm, 5.5 hours @ 6 knots. We anchored in East Cove, walked up to the museum, met the island caretakers who were very hospitable and made us afternoon devonshire tea which was wonderful. Seeing their vegetable garden and what they were growing, their accommodation, food stores, etc. was a great day.
It would have been so wonderful to spend a week at Deal Island. I guess it will have to be another time when I can go back again! Also, in the back of my mind I thought maybe David and I could have a turn at being lighthouse caretakers when we get older LOL!
Deal Island to Eden

The next moring we left early about 6.00 am and made for Eden. 200 nm, 32 hours @ 6 knots. We went straight through the oil riggers lining up lights and markers all worked out well on the paper charts and chartplotter. "Tui of Opua" were already back in Eden by now. It had taken them about 4 days back across Bass Strait. They are at least in their mid 70s and my hat can only go off to them.
Eden to Bermagui
The Eden to Bermagui trip was 40nm or 6.5 hours @ 6 knots. We had not been into Bermagui before but I remember having to arrive at High Tide at the entrance so we left Eden but for some reason it was forecast for a 10-12 knot NE so not sure what I thinking but it started out okay but then the wind started gusting up to 15-17 knots so making progress slower. From all accounts we made it in okay and enjoyed the fishing village.
Bermagui to Batemans Bay
I looked at the weather forecast for next few days and it was 10-15 knots NE during the days from about 12 noon to 5.00 pm then light winds in early mornings from about 4.00 am so we decided it best to leave around 4.00 am (which is early for me and someone who really loves their sleep ins, and not happy when that alarm goes off LOL!). The great thing about the early starts though was arriving at our next destination by 12 noon and having 5 hours to play. The Bermagui to Batemans Bay trip was 40nm or 6.5 hours @ 6 knots. We had the whole bay to oursevles literally and anchored at Maloneys Beach. The kids and I took a walk up to the local shop and bought some bread, drinks and enjoyed an ice cream (a real treat!). At one point the dinghy also happened to breakaway from a loose shackle (or someone did not tie it off too well), and at some stage I noticed it floating in the middle of the bay so we picked up the anchor and rescued our dinghy "China Boy" which was a bit of excitement for the day!
Batemans Bay to Jervis Bay
Batemans Bay to Jervis Bay was 45 nm or 7 hours @ 6 knots. Another early start we arrived about 10.00 am and had a great day. We saw dolphins, enjoyed a swim and play on the beach.
Jervis Bay to Wollongong Harbour
The Jervis Bay to Wollongong Harbour trip was 45nm or 7.5 hours at 6 knots. I was going to call in here as my good friend Cassandra and husband Andrew lived here. The Wollongong Harbour is tiny. We wanted to arrive high tide and seas were calm so got into the Harbour fine then once in picked up a mooring and spent one great evening catching up with great friends and plenty of drinks onboard. We only stayed that day and left that night at 11.00 pm.
Wollongong Harbour to Swansea Bridge, Lake Macquarie
The final leg from Wollongong Harbour to Swansea entrance was 90nm or 14.5 hours @ 6 knots. We timed it to catch the Swansea Channel high tide.
Woohoo! We had made it back home through the Swansea Bridge into Lake Macquarie. We were on a great high and the family felt a real sense of achievement making the voyage back in the 4 months. Thank you "China Girl" for keeping your crew safe and comfortable at all times. Until the next voyage...
Corinne
"China Girl"