Greetings. This is the last Newsletter for Bluewater for 2019 and although we are a few days late in getting this Newsletter out officially before the end of the year we are very pleased to report that we have had another busy year.
This includes continuing the build of the Cheoy Lee 52 which is getting closer to completion, building and racing the Cygnet 20 trailer sailer, an upgrade and refurbishment of a Bluewater 420 "Beyond I" which is some 22 years old, cruising our Bluewater 420 "China Girl" and sailing her back safely from Nelson, New Zealand to Lake Macquarie (via Lord Howe Island), keeping up the weekly Exodus camper production and meeting new people, visiting new places, and exploring more rivers and raiding on our beautiful Australian waters. What's not to love about boating?

Thank You To The Bluewater Team
Firstly, we would like to thank the Bluewater Team for all their hard work and efforts throughout the year. May you enjoy the time off during these holidays and get in some rest and relaxation. Recharge those batteries and be ready for another busy year in 2020.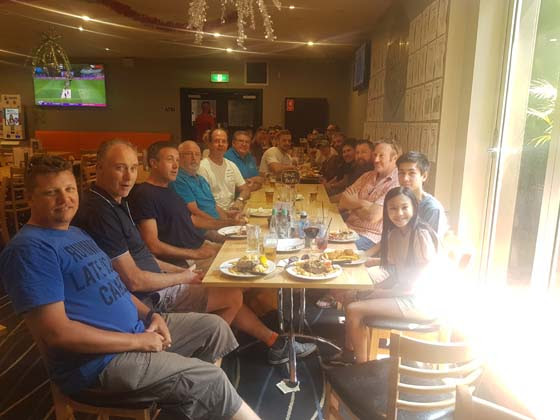 Cygnet 20
Exciting times for the Cygnet 20 with another two launched at the end of this year, hulls #5 and #6.
"Duyfken"
Congratulations to Matthew and Lindsey (NSW) who took delivery of their Cygnet 20 "Duyfken" and our first navy blue hull which looks very stylish and classy.
The Bluewater team have enjoyed getting to know you both during the build process, and David, Corinne and the kids are looking forward to raiding the Macleay River, Kempsey, with you and your family in mid January 2020. We should be able to make use of the Croker oars which will be fun.
David sailing with Matthew and Lindsey on beautiful Lake Macquarie and handing over their new Cygnet 20 "Duyfken".
Will Hardcastle (Cygnet 20 Designer) admiring and keeping a close eye on "Duyfken" and trying to decide what colours he should choose for his own Cygnet 20. He mentioned how impressed he was with the look of the navy blue hull.
"GiGi"
Cygnet 20 "GiGi" was driven down to Port Kembla, NSW in early December where it was placed on a ship and taken to Fremantle, WA. New proud owners, Paul and Diane have been very pleased with their purchase.
Paul commented "After two sails and rig adjustments "GiGi" performed very well indeed. I like the furling system that I have not used yet. Good to see the gaff up as we did not do that when we came over due to the strong winds. I have only flooded the forward tank and believe that might be enough. The tan/red sails look great and already a number of pleasing comments. Unfortunately our winds are a little strong at the moment so we will wait for calmer days to go for a longer sail on the bay. I am delighted with the easy mast raising and lowering etc, and each time raising and lowering the gaff is coming easier also."
"GiGi" at home in Geographe Bay, Western Australia.
"Kotare"
Brett & Sue also from WA #4 hull are enjoying their Cygnet 20 "Kotare". Here she is anchored in the Swan River.
Brett commented "All good well so far. Had "Kotare" out quite a few times now on the Swan River and getting to know how to sail her better. Have been using the shallow draft to find nicer, less trafficked anchorages for overnights. Heading down south in a couple of weeks to stay out on Wilson Inlet near Denmark."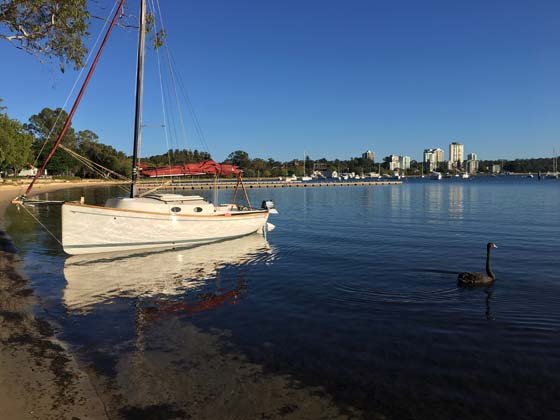 For Sale: Catalina 275 Sport

I had the opportunity to view "Cinnamon" and was very impressed by the overall quality and styling of this near new Catalina 275 Sport. The boat has been setup for coastal cruising with tiller pilot and bimini. The cockpit is tremendous, access from boarding platform is easy, good headroom and interior is very comfortable, and storage space is voluminous. In fact, I could not believe this boat is only 27.5 ft in length. I was convinced she was 30+ ft.
The styling of this boat is not your usual Catalina. It has a performance look which is very appealing compared to the usual. If you wanted something a bit bigger than a Cygnet 20 that has coastal cruising capability then you could not get a better boat for the purpose and value. For further information on this Catalina 275 Sport "Cinnamon" click here.
If you would like to discuss "Cinnamon" further please email david@bwcy.com.au or call David on 0412 656 271.
Happy New Year 2020!
We trust you all had a very Merry Christmas and take this opportuntiy to wish you and your families a happy, healthy and prosperous 2020.
Happy Sailing and enjoy being on the water!