MEET MARK - OWNER OF A CYGNET 20 "TIDE RIDER"
In 2017 I attended the Sydney International Boatshow with the intention of looking for something to replace my much used and enjoyed Hobie TI (Tandem Island). I was after something just as versatile but a bit more civilised. Something that could go in the shallowest of waters, with a simple to drop mast on the water for low bridges, be beached easily, was quick to setup/pack away, trailerable, sailed well and could handle the occasional open waters/island hop safely.

Nestled among the super yachts and catamarans in the marina was the Cygnet 20, and I was so impressed with how beautiful she looked that I took many pictures to show my father. We had just done up his Investigator 563 for sale, and I thought he'd appreciate the design and craftsmanship of the BWCY modern take on the trailer sailer. I had not considered it at the time as a TI replacement though. I had always hated the long setup/mast stepping common to most trailer sailers I knew of. There was no one around on the Cygnet 20 and I assumed it had a keel, something I did not want.

A few docks down I noticed the Seascape 24 and I began to see how it might be what I was after ...though a little too much boat. After a bit more research I discovered its smaller sister, the Seascape 18. This seemed ideal for my needs. Problem was there were only 3 in Australia and 2 of those were in WA. The only one in NSW was at Jervis Bay and though I tried hard I could not get the Aus importer to get me a sail on it before ordering.

A year passed and I went to the 2018 SIBS, wanting to see trimarans like the Dragonfly and Corsair. After closely inspecting both boats I could see they were too much boat for what I wanted.

Then I saw the Cygnet 20 again. This time it was on a stand in one of the pavilions. I was surprised to see it had a flat canoe bottom with a swing keel. I met David who enthusiastically detailed the benefits of water ballast, gaff rig, etc. I was impressed with the cabin layout and began thinking this may be what I was after to replace my TI.

David kindly arranged for a test sail on my local Brisbane Waters. My wife and I really enjoyed how civilised and comfortable it was, how well it sailed and how easy it was to set up/pack up. My TI used to take twice as long! It was great to return to the dock dry after the test sail.

After watching the Cygnet 20 race on Lake Macquarie, visiting the BWCY factory with David and going on another test sail we decided to go ahead and purchase Cygnet #2. During the build David and his team have been exceptional. I visited the factory regularly and was keen to have input on trailer, outboard, outboard bracket, etc. The team have been very accommodating and helpful and I couldn't be happier.

Their workmanship is first class and David and his team have delivered a high quality and unique boat that always draws compliments. It is also very easy to set up and launch and it sails beautifully. I'm not into racing but this boat is very competitive. I have mates who are experienced sailors and they have all been impressed with the Cygnet 20's sea worthiness and speed on the water. One trip from Woy Woy to Pittwater we had to negotiate a small craft advisory with a 3m swell off Box Head. The little Cygnet handled it without drama!

BWCY's exceptional service has continued long after the sale. A newbie error in shallow water with the rudder up resulted in minor rudder damage from the outboard prop. After a visit to the factory it was expertly and quickly repaired -without charge! A couple of minor issues have been fixed immediately at the factory. As this boat is a new design it will evolve. Recently David sent me an upgraded boom connector that simplifies set up -once again at no cost.

I have got to know the team at BWCY very well and I would like to thank David and Corinne, and their craftsmen James, Kevin and Joe for the quality build and exceptional service. It has been great dealing directly with a local company that knows its product because they built it, not just sales middlemen.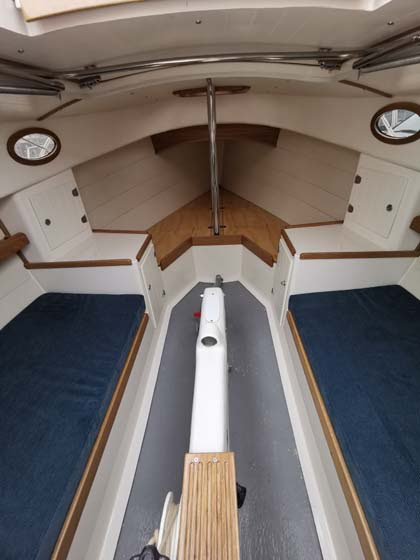 PS. In the late '70's an Investigator 563 was about $8000 new. In today's value that equates to about $44,000.00 This makes the Cygnet 20 exceptional value considering its design, build quality and fittings.

Mark Stringfellow

Tide Rider
SYDNEY BOATSHOW 2019
Bluewater Cruising Yachts will be exhibting their Cygnet 20 again this year at the Sydney Boatshow 2019 in the Halls, Stand 521A from Thursday, 1st to Monday, 5th August 2019.
The Cygnet 20 is a modern classic looking trailer sailer with special features such as water ballast making it light to tow, 10 minutes to set up the carbon mast and spars, sleeps 4, easy and fun to sail, and the added beauty is the recent optional fitting of 10ft Croker carbon oars so you can row the boat, and benefit from some form of exercise when there is no wind.
Recently we were able to capture drone footage of the latest 3 Cygnet 20's sailing on beautiful Lake Macquarie which was a sight to behold.

In the near future Bluewater will be organising and promoting "Raids" - sail and oar events in Australian lakes, rivers and waterways with the growing number of Cygnet 20 owners increasing makes for an exciting time to be in the marine industry.
The Cygnet 20 - 'For the love of sailing".
EXPLORE ADVENTURE RAID
For a closer look at this beautiful, gaff rigged trailer sailer come down and see us at the Sydney Boatshow in the Halls, Stand 521A. www.bwcy.com.au or call David on 0412 656 271.
CYGNET 20 HUNTER RIVER RAID - STOCKTON TO MORPETH 13 & 14 JULY 2019

My Hunter River interest had been dormant for as long as I can remember until I did my first raid down the Hawkesbury. Now I am fascinated by every river, and rivers in general, and the more I hear about other people's knowledge and interest of rivers further intrigues me. They are such a rich source of adventure, history and beauty, as well how we Europeans settled this vast country.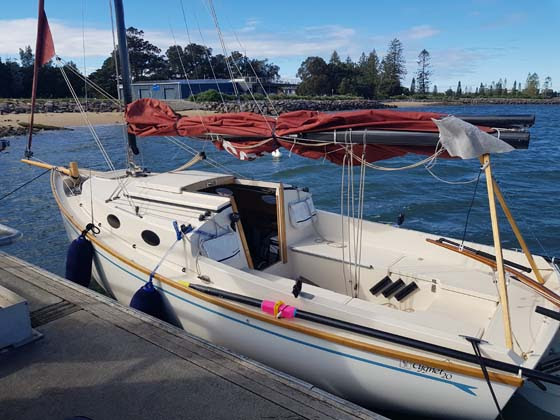 The next river I thought best to raid was our local Hunter River which after doing some research and talking to other locals extends approximately 300km! Can you believe it? I had no idea. It starts from the Barrington Tops and is dammed at Lake Glenbawn then travels through Aberdeen, Muswellbrook, Singleton, Maitland, Morpeth, Raymond Terrace, Hexham, Stockton then Newcastle! This was going to take more than a long weekend to explore!
My idea was to raid sail/oar from Stockton to Morpeth as the first leg of raiding the Hunter which is a distance of 25nm. We had started to explore the river at Muswellbrook after my son had a soccer game there. It was difficult to check out the river as it was little more than a stream set far away with vegetation covered in lantana and vines. The river banks were high though for when it floods occasionally.
There is no way I can raid the Cygnet up to Muswellbrook but maybe Singleton? No one seems to know so we'll just have to explore for ourselves. We checked out the river driving back home at Muswellbrook, Singleton, Maitland, Morpeth which was great because this added to the intrigue and anticipation as well we all had a mission to accomplish.
We set the date Saturday, 13th and Sunday, 14th July as this was mid school holidays and no soccer game! Leading up to the weekend strong winds were forecast and there was a tragedy off Stockton whereby a catamaran had flipped and 3 people lost their lives. A sobering thought to the dangers we take for granted!
Being local was easy to organise and only a 30 minute drive from the factory. I'll get the boat ready, me and Will Hardcastle will drive the Cygnet to Stockton, and Corinne would drop off the kids with food supplies 10.00am. We launched Cygnet and had everything loaded by 10.30am, however, the wind was gusting 30+ knots and no one was out. I couldn't even get James, my 2IC to come out of his house to see us off, and he only lived around the corner! Are they still going was the message we received.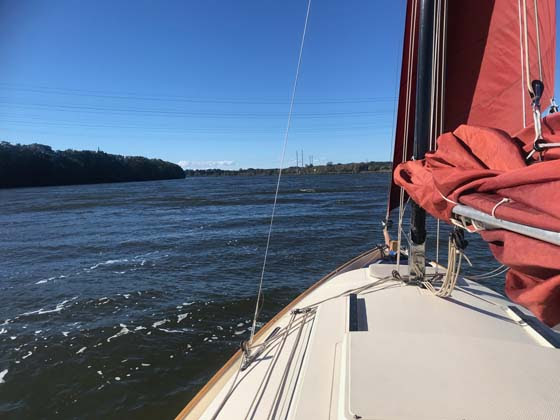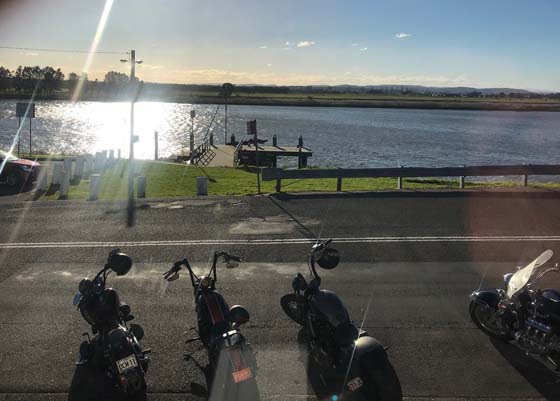 Of course! Just another test for our mighty Cygnet as well more practise for crew in strong winds! We reversed off the wharf because I did not want to get blown onto the boat ramp. An exciting start to our Hunter River Raid.
Sailing NW seemed strange because you cannot do this trip in a large yacht due to bridges and depth restrictions. Great! Exploring new waterways seemed surreal going where you have never considered before.
We had timed our trip starting at low tide to take advantage of the current. Sailing for 75 minutes with a reefed main until we run aground! Lifting the centreboard and rudder to get out of the mud left us being blown onto a lee shore in 30+ knots! (No problems in flat water). A bit exciting so we dropped the sail and used our trusty 4 hp outboard to steer us head into the wind and back into deep water.
We let the keel down to 1m depth to give us steerage, we motored for the next 1.5 hours to Hexham Bridge with the wind directly on the nose. No problems with the tide gave us an extra push! Coming up to Hexham Bridge was the first chance to test our gaff rig lowering.
It went like clockwork, so easy we did not even slow down and up went the rig and sails for the next 1.5 hours until we reached Raymond Terrace. Sailing was very satisfying doing this leg as we had to beat into the wind until we could make it around the river bend then reaching conditions until Raymond Terrace. We decided to make a 30 minute pitt stop at Raymond Terrace whereby I could fill up my 5 lt fuel container, ice cream, toilet break and ale at the local pub across the road. Very enjoyable!
We motored for the next 30 minutes until we had to drop the mast at our next bridge. From here we sailed for 30 minutes then motored 1.25 hours to Morpeth.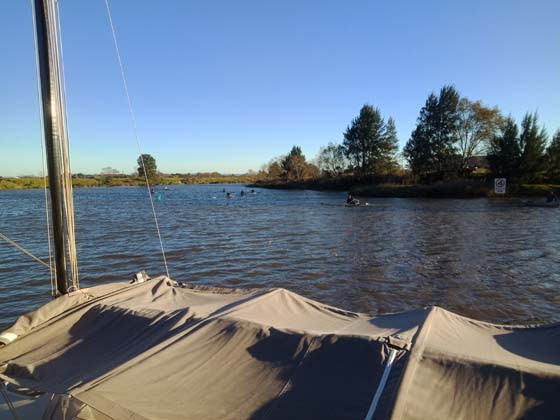 We achieved what we set out in very strong conditions 30-35 knots but fine, sunny conditions so it was still pleasurable. That night we enjoyed a 3 course dinner at the local Woodfire Pizza Restaurant with a few more ales. We were all very pleased with our efforts and felt a sense of accomplishment.
Morpeth is such a lovely, little historical village with such character. Its claim to fame is Arnott's Biscuits original bakery 1847 and bustling river port in colonial times. The night was still not over as the kids organised movies until 10.30pm. Is there anything you cannot do on a Cygnet?
Next morning breakfast, coffee and toilet break. Kids still asleep and we set sail 9.00 am. Winds were still gusting 20 knots even though weather report forecast maximum 17 knots. In fact, Sunday was as strong as Saturday 30+ knots in the end.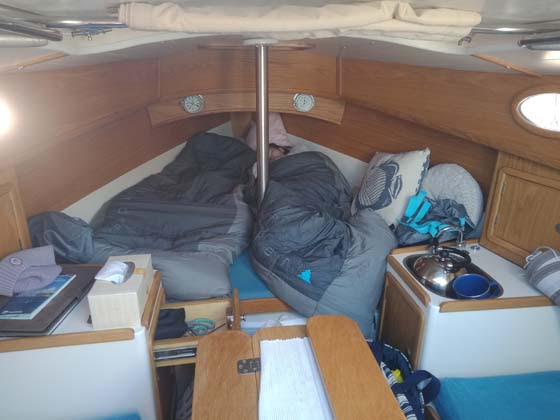 We sailed all the way from Morpeth to Stockton dropping the mast twice and used the outgoing tide to propel us even faster. Coming up to the first bridge dropping the mast was now slick like. A well drilled pit crew, and back up sailing within minutes – so much fun!
This was a very different raid from our first Hawkesbury Raid as we did not get a chance to row due to strong wind conditions, however, just as satisfying feeling of adventure.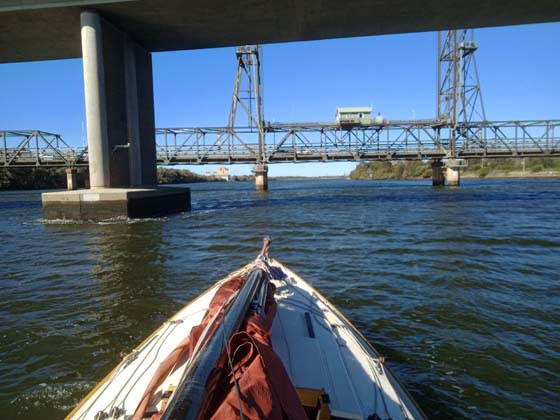 Our next raid will start at Morpeth and travel up the Hunter River may be to Singleton? Who knows? That is the adventure of it!
Passage Figures
Stockton to Morpeth 25nm each way - Total 50nm
11.75 hrs @ 4.2 knots average
Row
0 hours
Saturday
Sail
3.25 hours
Sail
8.5 hours
Motor
3.25 hours
Motor
3.25 hours
Sunday
Sail
5.25 hours
Total
11.75 hours
Total
11.75 hours
Average Speed
4.2 knots
David Bradburn
Managing Director
Bluewater Cruising Yachts