Dear Bluewater Family & Friends,
2014 has been a successful year for Bluewater.
Another Bluewater 420 is nearing completion with hopefully a March 2015 launching.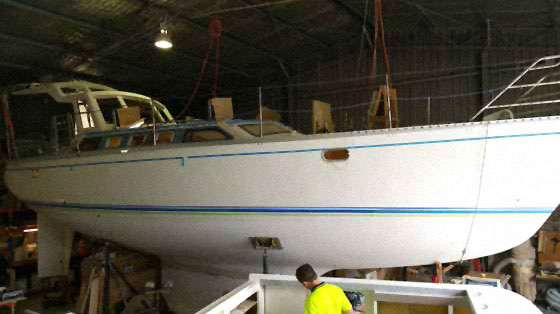 We have started a new design (20ft gaff rigged trailer sailer).
The offroad camper business has been steady, and we hope to have 2 boats ready for the 2015 Sydney Boatshow.
Thank you to all the owners that attended the Bluewater Awards Night which was a lot of fun had by all.
We plan to have a few get togethers in 2015 so it would be really good if you could join us on the water.
We would like to congratulate "Southern Belle" and "Celay" for their recent
crossing of Bass Strait and safe arrival in Hobart.
Also, KRACKT for their 12th? trip (losing count) to New Caledonia.
We also wish Peter Lewis "Charlie's Dream" well in his 5th Sydney to Hobart Yacht Race.
We wish you all a very Merry Christmas with your loved ones, and look forward
to catching up with you in the New Year.